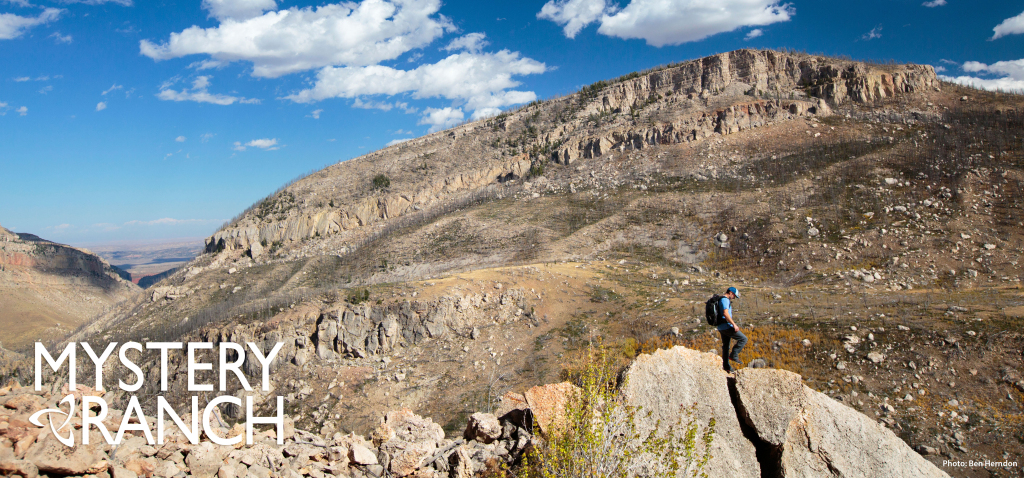 Old-school backpackers remember the name well. Back in the day, Dana Designs was one of the leading pack companies in the industry and was considered by many to be one of the founding fathers of modern backpacking.
But somewhere in the 90's, Dana Designs just sort of fell off the map. Their packs became the stuff of cultish legend. If you had a Dana Designs pack, you could count yourself lucky. If you didn't, you were likely scouring Ebay in hopes of finding one. They became collectors items, and even in far off reaches such as Korea and Japan, there were small hiking clubs using the packs and referring to themselves as "The Dana Maniacs." Even today, there are message boards where people have asked the question: 'whatever happened to Dana Designs?'
The answer is a somewhat convoluted one that comes complete with all sorts of fun bureaucratic dealings and acquisitions. But the long and the short of it is that Dana Designs is now making a comeback. Under the new name of Mystery Ranch Backpacks, and with a few improvements to the original designs, this pioneer of the pack-making industry is back. And it's better than ever.
A Brief History
Dana Designs was founded in 1985 by Dana Gleason, a man who Alex Kutches, current VP of Mystery Ranch, refers to as a "legitimate legend in the pack-making world." For ten years, the company was a mainstay among the backpacking community. Admired for incredible durability and an ability to carry heavy loads, the packs became so popular, and the company began to grow so rapidly, that Gleason sold to K2 Sports in 1995.
Changes inevitably occurred. A new owner came in. And Dana Designs continued to float around as a name brand for a few years, but without Gleason at the helm, it just didn't experience the same success, and it eventually ceased to exist in 2006.
In that time, Gleason himself couldn't stay away from the world of pack-making and launched Mystery Ranch in 2000.
The first few years were difficult. The brand struggled to get off the ground, but in 2004, a group of Navy SEALs approached the company and requested custom-made packs. From then on, the course of Mystery Ranch's history was changed, and the business model shifted toward selling mostly direct to specialized customers.
Load-Centric Packs
Over the last number of years, Mystery Ranch has been quietly building packs behind-the-scenes that are meant for the world's most elite Special Forces. With operations based in Bozeman, Montana, Mystery Ranch has carved out a niche for itself, designing American-made, hand-stitched, premium fighting packs for the military, as well as the most high-end, technical fire-fighting packs around, and even hardcore hunting packs, too.
The Mystery Ranch mantra is that these packs are 'built for the mission.' It doesn't matter what the mission is—whether it's parachuting into raging forest fires in Arizona, or hunting grizzlies on Kodiak Island, or simply going on a week-long backpacking trip—these packs get the job done, and they get it done well. As Kutches says, "We listen to our user groups, and that's what makes these built for the mission. They're used by people who need them to do their jobs."
These are load-centric packs, designed to carry heavy gear and to carry it comfortably. They're burly. They're reliable. They're American-made and meant for getting out there and getting dirty and working day-after-day under the harshest conditions.
And that's the whole point: This is bombproof, hardcore gear that will last you decades. It's not for gram-counters and ultra-lighters. It's for the people who know that 'heavy' ultimately means durable and for people who understand that gear needs to be able to take a beating.
As Dawson Wheeler of Rock/Creek puts it: "These aren't clothing designers designing cute packs. These are the badasses of the pack industry who are pushing the envelope, and saying 'hey, we have this functional problem that we need to solve, and we're gonna go out and do just that.'"
Exclusive and Hard-to-Find
Another thing that sets Mystery Ranch apart is that their bags are somewhat hard to find. (Maybe not as hard to find as they were in the late 90's and early 2000's, but still pretty rare.) The reason is because Mystery Ranch doesn't sell to just any old retail store or electronic commerce site. They're exclusive about who they sell to, making very clear choices about being high-end and vetting all of their dealers.
Today, Mystery Ranch packs can be found in only about 50 specialty outdoor stores across the US and Canada. The reason is because they trust these dealers to deliver on two promises: 1) A high-end integrity on pricing, and 2) An ability to properly tell the brand's story.
These packs aren't cheap. They weren't made cheaply, overseas or otherwise, and as a result, the price-point may be a little higher than some people are willing to pay when shopping for backpacks online. But it's a classic case of "you pay for what you get." And what you get with Mystery Ranch packs is a product that's been built on 40 years of devotion to function, quality, and comfort. A product that 20 years from now—even after that thru-hike of the Appalachian Trail, or that cross-country ski expedition in the Rockies, or that alpine climbing trip in the Tetons—will be sitting in your closet ready-as-ever for the next adventure.
Hands-on experience with Rock/Creek
Come into one of our stores and get a professional pack fitting.  There is likely no replacement for having an professional's perspective on how your pack fits and what features you might appreciate.  Here's what you can anticipate when getting fitted by Rock/Creek:
First, we need to get an idea of how you are going to be using the pack.  Will you be going on weeklong trips, weekends, or over-nighters?  What time of year to you plan on going?  What does the rest of your equipment look like?  These are all questions to help us determine which pack is going to best suit you.
Next, we're going to measure your torso and waist.  Not everyone is going to be a medium torso, waist, and shoulder harness.  It's important to realize that we will probably need to make some adjustments to whatever pack you end up with.
Now we're going to load the pack with some weight.  Every pack is comfortable with nothing in it.  Carve out 30-45 minutes to walk around our store with the amount of weight you are probably going to carry.  We can replicate your equipment based on other merchandise that we have  in the store or you can bring in your equipment to load the packs with.
Now that the pack is fully loaded, we can see which areas need to be modified.  The hip belt may need some adjusting, as might the shoulder straps and load lifters.  All of this is much easier when assisted by a trained professional.
Once the pack is fitted, it's time to take it out for it's first trip.  Remember, there is a high probability that you are going to be sore on your hipbones and shoulders while breaking in a new pack.  Some people may be more susceptible to soreness at first depending on the amount of backpacking you do in a year and how adapted your body is to carrying a load.
Come back in and tell us what you like/don't like.  There may be some further adjustments we can make to fine tune your fit.
We would love for you to swing by one of our locations and talk with one of our sales associates to determine which pack is best for you.  There's nothing quite like a hands on experience to really understand which pack is going to best suit your needs.