Last year, our fearless leader Dawson Wheeler (co-founder) decided to embark on the adventure of a lifetime: riding the Great Divide Mountain Bike Route with his buddy Jamey Smith, and former Rock/Creek manager, Gaston Farmer.  Now that a year has passed, we wanted to catch up with Dawson to dig into the particulars of his trip and see how he views his experience in retrospect.
What is the Great Divide Mountain Bike Route (GDMBR)?
Abbreviated summary from Wikipedia:
"The Great Divide Mountain Bike Route (GDMBR) is a 2,768 mile off-road bicycle touring route from Banff, Alberta, Canada to Antelope Wells, New Mexico, USA.  Following the Continental Divide Trail as closely as practicable and crossing it 30 times, about 90% of the GDMBR is on unpaved roads and trails and requires basic off-pavement riding skills to complete. The unpaved portions of the route range from high quality dirt or gravel roads to a few short sections of unmaintained trails which may not be possible for most people to ride at all.  The GDMBR has over 200,000 feet of elevation gain and loss for the rider to contend with.
The GDMBR is routed through a variety of terrain and geographic features. Highlights include the Flathead Valley in British Columbia; Grand Teton National Park and the Great Divide Basin in Wyoming; South Park and Boreas Pass in Colorado; and Polvadera Mesa and the Gila Wilderness in New Mexico. Colorado's Indiana Pass, at 11,913 feet, is the highest point on the route. On route, riders encounter isolated river valleys, mountain forests, wide open grasslands, high desert, and, near the end of the ride, a section of the Chihuahuan Desert.
The GDMBR passes though some larger towns, including Helena and Butte, Montana; Pinedale and Rawlins, Wyoming; Steamboat Springs, Breckenridge, Salida, and Del Norte, Colorado; and Grants and Silver City, New Mexico. Otherwise, only extremely small towns are encountered, limiting the variety of goods and services available to riders.  Antelope Wells, New Mexico is the most commonly known starting or finishing point of the Continental Divide trail."
Josh: "So, what was your inspiration to ride The Divide?"
Dawson: "I wish there were some epiphany and defining moment, but really it was more a "let's do it thing." Really, Gaston Farmer began the discussion of Riding the Divide and asked me if I had interest in being a part of his trip. From there, I began conversations with my long time best mate and cycling partner, Jamey Smith, on his thoughts about such a big trip. A month later and a whole lot of selling Jamey on the idea, the trip was on go. When I presented the idea to my wife, she was quick with her answer: 'I think you should—you deserve it!' She has always supported my trips and knows adventure is a part of my core."
Josh: "What was the total length of your trip?"
Dawson:  "Our trip was 50 total days. We had 42 riding days. Of the other 8 days we had 4 bike repair days, 1 rest days, 2 sick days, a 1 true layover day with my oldest son, Josh, and his wife."
Josh: "Who did you ride with, and would you have changed that?"
Dawson:  "I rode with Jamey for the entire trip, and Gaston also rode with us to Jackson Hole, where he had a planned stop to visit a few friends before he pushed on alone and completed the trip. After completing the trip I am certain that I could not have been successful without Jamey. He was the best partner I could have ever had. Gaston, during his time with us, was also simply perfect. A great young man — he is 24, a true adventurer and 100% competent with his skills."
Josh: "What was your gear list and what was your favorite/most used item?"
Dawson: "My bike was a Niner SIR9 with a Sram 1×11 drive train. My gear list: Marmot Tungsten 1 and Marmot Helium 30 degree sleeping bag, Therm-A-Rest Neo Air X-Lite, Snowpeak Giga-Power stove, titanium mug, spoon, small first aid kit with a focus on pain management, wound management and water born stomach treatments, a Katadyn Gravity Works water filter, small tool & tire kit and tire pump, head light, maps, gps.
Clothing: Patagonia M10 rain jacket, two pairs of cycling shorts one: was a bib and the other was the Patagonia Dirt Craft shorts and liner, a Smartwool t-shirt, one pair of Smartwool socks, arm warmers and hat, one cycling jersey and a Patagonia fishing shirt for sun protection, Arcteryx Gamma Lt pant, an Icebreaker baseball hat, full fingered gloves, helmet, carbon cycling shoes and Hoka running shoes.
Other gear: Dry sacs for all items, 50 feet of 2.5mm cord for hanging food and a very small body cleaning kit with a focus on my "back side", a small camera, a Spot and Sat phone and i-phone. All gear was carried in bike frame bags made by Revelate Designs.
Finally, the product I used everyday was my Smartwool t-shirt and socks which I wore every single day. Loved it!"
Josh: "Was there anything you would have left or did leave behind?"
Dawson: "I started with a very limited amount of clothing and gear so I really did not send anything back. I had the experience of being an AT thru hiker and a lifetime in the backcountry to draw off of. However, my partner, Jamey, was a bit over-prepared and had some extra clothing and items that we sent back and a few bike tools that totaled over 10 pounds."
Josh: "What was your favorite part of the trail?"
Dawson:  "One section would certainly be Banff to the US border. It's big country and the route winds through the Canadian Rockies, lots of amazing views, beautiful rivers, lakes, big animals i.e. grizzlies, wolves, cats, moose and elk to keep you excited and certainly focused. I also loved Colorado where you ride many days above 10,000 ft and as high as 12,000 ft."
Josh:  "Is there a section of the trail you never care to see again?"
Dawson:  "New Mexico. I was sick the last week of the trip with stomach issues and fever. I also had a series of major bike repairs that also beat me down. In fact, it was my partner, Jamey, who became the cheerleader and voice of reason
in the last few days. On several of the closing days I was a physical and mental mess. The good news of our partnership is that someone was always up beat and ready for anything whenever the other was fighting his demons.  And believe me there were plenty of demons out there — ha ha!"
Josh:  "What were your most memorable moments?"
Dawson:  "There are many memorable moments–after all, the route is 2,800
miles. We had two grizzly bear encounters in one day. On that day Gaston and I jumped a big sow on the side of the road which ran up slope and left us in a 'holy shit' moment; later in the day with light waning and a mile to go to our camp on top of a mountain, a grizzly walked out into the road and then crossed into the woods. I was in front of Gaston and Jamey and we got off our bikes and prepared for a possible encounter — as best we could. We remained still and waited for what seemed a lifetime before we moved. Right before we moved the bear came back into the road — oh no. He looked at us and walked back into the woods once again. Minutes later we slowly walked on past where the bear once was on the road. Needless to say the rest of our evening was on high alert.
The second was a lightning, hail, sleet storm we got caught in on top of a mountain in Mt. We were forced off our bikes with limited shelter under trees with lightning hitting within yards of us. Gaston, Jamey and subsequently made some very serious decisions to either dig in and bivi or make a run for it across an exposed ridgeline and mountaintop. We had been riding around forest fires and we knew the lightning could ignite another fire right on top of us. But on the other hand, we knew riding out onto the exposed ridge had huge risk with all the lightning.
There was so much electricity in the air that it was standing your hair up and arcing. We all were freezing and on the edge of hypothermia and made the decision we had to move and begin riding across the exposed ridge and then down the mountain. What I remember was getting to the bottom of the mountain freezing, full of adrenaline, and just busting out laughing as we found a café to jump into and get a hot drink and a pizza. The next morning when we woke up we looked back up the mountain and where we had ridden from and there was now a forest fire. Good choice!
The third stand out was a remark/question from my son, Josh, who joined Jamey
and me for two days of riding in Colorado. Josh has been and is a great ultra athlete all his adult life so his remarks/questions have a solid frame of reference. Simply asked as we ascended a mountain, 'Dad, you and Jamey do this every day?' 'Yes,' I respond. 'Damn,' said Josh, and went back to riding in silence. And in that moment I felt my son's respect for the hard work we were putting in day in and day out.
Also, riding across the Great Basin with Jamey was such an adventure in and of itself. We were able to keep the pressures of the Basin, i.e. the lack of water, wind and weather at bay with a well-planned strategy so the day became inspiring. Most people rarely experience the mere size and scope of landscape at this scale, much less cross it under your own power.
Finally, two days from the finish as we left Silver City, NM, Jamey and I rode into the desert, closing in on the Mexican Border, and I felt a wave of emotion and friendship with my partner Jamey Smith. My brain flashed the thousands of times I had missed a opportunity to thank Jamey for his help, his friendship, his support and patience; I simply road up next to him and placed my hand on his back and said, 'you know, I love you and I could not have done it without you.' In a quick 'back-at-ya-brother' reply, across the desert we went."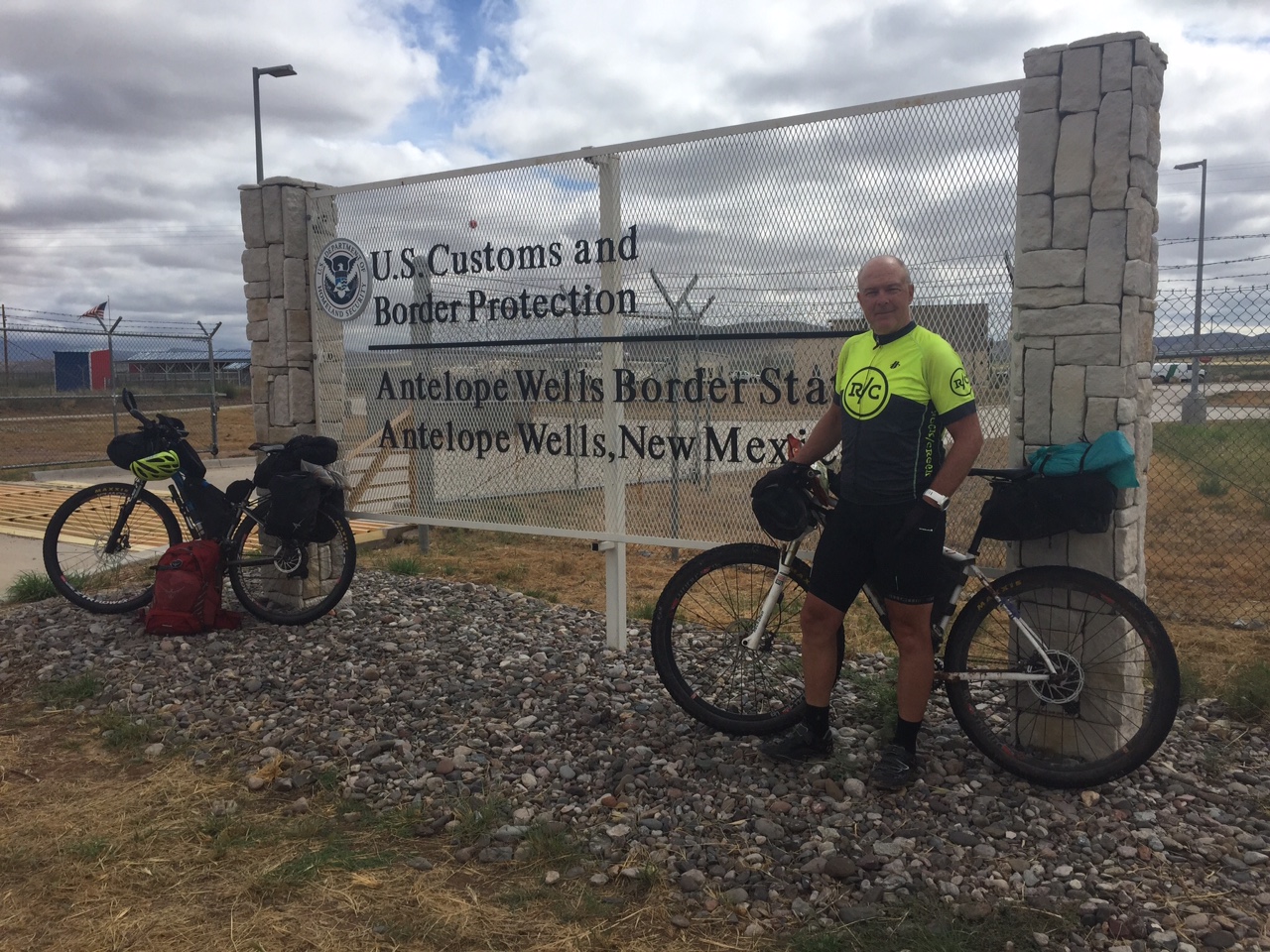 Josh: "What was the hardest part mentally?"
Dawson:  "Due to pace and riding style Jamey and I did not ride together very often during the day. Sometimes we rode our bikes hundreds of yards apart and sometimes we rode miles and miles apart. This also held true when Gaston was riding with us.
Being alone day after day in such big country made my brain revisit my entire life 'one movie' at a time. Some memories good, some not so good, and some flat out painful — past, present, future all colliding with no way to turn my brain off.
Memories like your first kiss, the death of your mother, father or grandparents, a school yard fight, a girl friend fight, your first slow dance, words you regretted saying, the birth of your children, cancer, friendship and losses created an
emotional freight train that at times could overwhelm you. All the while you had to fight off getting lost in your own head and keep your focus on matters at hand with your ride.
Two other examples: at a junction in the middle of the high plains I paused to read my map and check my way finding when suddenly, I smelled my grandfather's pipe as strongly as if he were behind me. On another day around a few of the canyon areas I had been stopped for over an hour when Gaston rode up and asked what I was doing. I told him I was listening to my family's reunion, aka voices of my mother, father, and grandfather (all dead) coming in the wind out of the canyon. Gaston just smiled at me and said, 'Why don't we ride together for a while?' And off we went, and my memories/movie was paused and I was back to matters at hand.
Josh: "Wow, that's really powerful…  What type of people did you run into out there?
Over the course of our trip we saw few people in the backcountry. We maybe saw 30 riders, and of that 30, very few attempting the entire journey. We saw perhaps 9 divide hikers. With both hikers and riders we spoke only briefly. Most riders were not American. The majority of the others we saw were farmers, ranchers and miners, all simply doing their own thing. It was very rare to have a conversation with anyone in the backcountry. In surrounding resort towns, such as Whitefish, Jackson Hole, Steamboat, Breckenridge, and Salida, we did see a good number of people camping and enjoying outdoor recreation.
Josh:  "Would you ride The Divide again and would you recommend this trip to others?"
Dawson:  "I have hiked all 2,200 miles of the AT in one push and now the Divide at 2,800 miles. The lessons that can be learned when you expose yourself to a trip of this length cannot be had with shorter adventures, in my opinion. So, anyone who wants a trip of a lifetime, who enjoys riding a bicycle and camping, should consider the attempt.
As for would I ever ride it again? If you would have asked me the week after I returned I would have said, 'Hell, no.' Now that some time has passed, I certainly would if I could do it supported by an SUV. If that were to happen, I would want my friend Jamey Smith in the mix. He is a man that can be counted on."