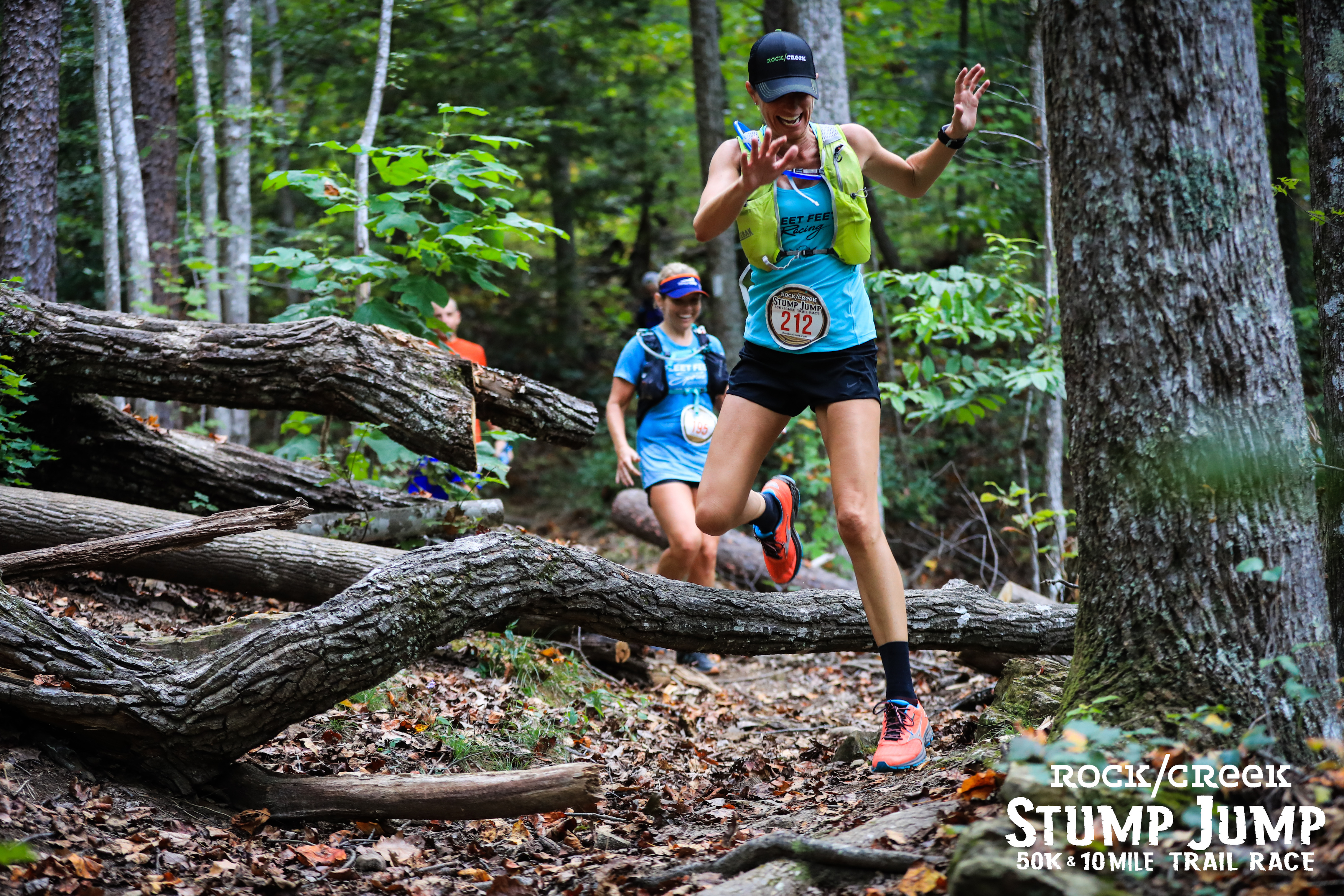 In recent decades, trail running has become a staple of outdoor life in Chattanooga, and it seems like just about everyone is diving in.
On any given trail you'll find 5K gurus and distance junkies, Gu slurpers and Skratch sippers, Salomon supporters, Hoka enthusiasts, Altra devotees and even some barefoot joggers. The trail running community is as fun and diverse as the trails they run on. And with over 50 trailheads within half an hour of downtown, it's no wonder that nearly everyone you meet is lacing up their running shoes.
At Rock/Creek, we're stoked to be a part of the ever-growing trail running community through our Trail Race Series. Above all, our mission is to encourage outdoor recreation while being good stewards of our natural environment.
To that end, each race in our series directly benefits local wild spaces in some way, through trail maintenance, waterway access, land conservation and beyond. In the words of Rock/Creek Co-Founder Dawson Wheeler, "Our success is being able to walk out on trail systems and know we had a hand in getting that trail system built."
Here's a quick overview of the 2018 Rock/Creek Race Series plus some other beloved local races, and we invite you to join us on the trails and in our effort to protect our environment.
Cloudland Canyon 50K and Half Marathon (Run Bum Tours Collaboration)
Feb. 10
Cloudland Canyon State Park is the gem of north Georgia, with plunging waterfalls, panoramic overlooks and miles of winding singletrack. And what better way to take the grand tour than with a challenging 50K or half marathon? Both courses trace the West Rim Trail before descending hundreds of stairs to the canyon floor. (Don't worry– the climb back out is so pretty you'll almost forget that your legs are turning to Jell-O.) The half marathon finishes shortly after that while the 50K goes on to complete the last 20 miles on a lollipop route.
March 24
Kicking off the Rock/Creek race series for 2018 is Rock/Creek's oldest trail run, the River Gorge Race in Prentice Cooper State Forest. The course traces the single track of Mullen's Cove Loop and offers sweeping views of the surrounding ridges and the Tennessee River in the valley below. The course is rugged enough to be fun and challenging for seasoned runners, but its moderate distance and lack of major elevation change make it perfect for newer runners as well. Because the race is in early spring, unpredictable weather often makes this course even more thrilling.
April 21
This year we're excited to be adding a brand new family-friendly race to our series! The Brow Beater will be part of Chattanooga's first Earth Day Festival at Reflection Riding Arboretum and Nature Center. The all-day festival will include food, music, gear demos, paddling, and much more! Runners are invited to stick around after the race and enjoy the many exciting things that are planned for this inaugural event, including the annual Native Plant Sale. This race is made for all ages and will take place on the beautiful trails within Reflection Riding's grounds at the foot of Lookout Mountain.
April 28th
This family-friendly run is an out-and-back along the North Chick Creek in Soddy Daisy. Running with Sasquatch is open to runners and hikers of all skill levels, and there's even a team option, so there is truly a place for everyone at this fun race. This race benefits Ivy Academy, a tuition-free public charter school, and it's always great to see the students out participating in the race. Special bonus: This year participants will receive free admission to the Cumberland Trail Spring Festival!
May 28th
Celebrate this Memorial Day by being part of Chattanooga's oldest competitive road race, the Chattanooga Chase! This race begins at Riverview Park and meanders the beautiful neighborhoods of Northshore. Make this your year to become part of an awesome event that's been going on since 1968!
July 14th
This year will mark the third annual Heroes Run/Walk in memory of the five soldiers who lost their lives in the 2015 terrorist attack. Each year, over 1,500 people come together at this event to celebrate the soldiers and their families on our beautiful Tennessee River. The run/walk is open to all ages and abilities, and begins and ends at Rock/Creek's rental outpost at the Hubert Fry Center on the Riverwalk.
Oct 6
The StumpJump 50k is one of the premier ultra marathons in the Southeast, luring runners from all around the country year after year. The course begins atop Signal Mountain and winds to Prentice Cooper State Forest and back for over 6,000 feet of elevation gain. The trails afford some of Chattanooga's most iconic views, including Edwards Point and Snooper's Rock, in addition to southeastern charms like swinging bridges and steep wooden staircases. Born in 2002, the StumpJump 50k is Rock/Creek's second oldest race and the coveted race bibs go quickly every year.
Oct 6
This race is the younger brother of the StumpJump 50k, born out of the ultra's immense popularity. The 10 miler offers runners a beautiful mini-tour of Signal Mountain's extensive trail system, with Edwards Point and it's stunning river gorge views marking the halfway point. This year the StumpJump 10 Mile will be held on the same day as the 50K, which means the post-race gathering will be bigger and better than ever!
Stone Fort Stomp 4.2 Mile (Rock/Creek)
Oct 27
Held each year as part of Stone Fort's leg of the Triple Crown Bouldering Series, the Stomp uses the paved cart paths at the Montlake Golf Course, making it perfect for beginner runners. Turn your adventure into a biathlon by entering both the bouldering comp and the Stone Fort Stomp. This unique event is not one to be missed!
Nov. 30th – Dec. 1st
The Chattanooga 100 Mile and 50 Mile take place in and around the beautiful Cloudland Canyon State Park, which is a quick 45 minute drive from Chattanooga. These ultra-races are intended to be very safe and attainable, with maximum scenery and minimum elevation gain. For more insights into the courses, check out this video from last year's race: https://vimeo.com/250132694.
Other races in the Chattanooga Area: