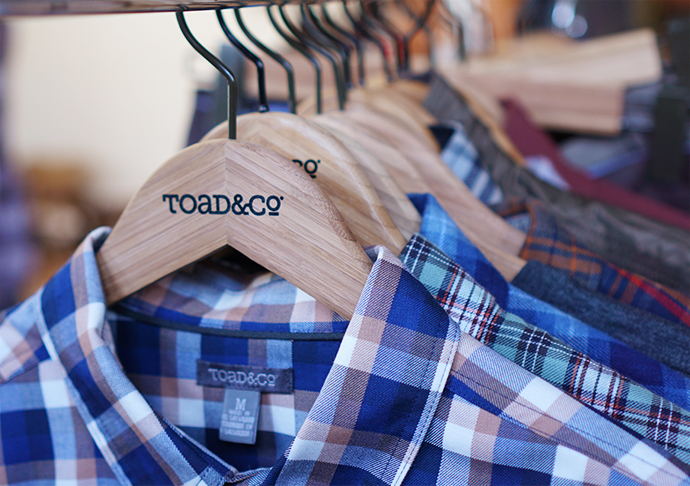 If you're like the Rock/Creek crew, you demand a lot from your clothing. That's why we're big fans of Toad&Co's trail to tavern clothing – and apparently, we're not the only ones.
Here are 5 Toad&Co favorites from users just like you –
"Real talk y'all- these are the greatest pants in the history of pants.  I have worn them for 6 days straight from trekking to airplane to a night out and they PERFORM like nothing I have ever seen before.  They have kept their shape, they smell normal, they dry super quick, they didn't even mind a (okay several) little (okay major) spills (coffee and beer for the record)- no stains, dried right up! Stop reading reviews and buy these immediately.  For the record- I'm 5'2″ 120 lbs and a size 4 fits magically."
"I am 5'5″, 120lbs and the size 2 fits perfectly. I have been an outdoor guide for 5+ years and have tried pants from the competitors (Patagonia, Columbia, north face, prana, etc.) none of which can touch these pants! This pant actually stays rolled when you cuff the bottoms, great for us shorter women. These are a true slim fit – no more boxy, ill-fitting silhouettes, or "mom butt"! The thick waistband elastic acts as a belt and doesn't stretch out, so no need to constantly hike up your pants. The material is quick drying. The pockets are big enough to hold your essentials, without venturing into cargo pant territory. The finish on the material is convincing enough that I can wear them to the office. So far, have worn them backpacking, climbing, kayaking and they have worked great for all. I do wish they came in black and that they had a belt look to clip on my keys, but now I'm just being picky ;)."
---
"I absolutely love this shirt! It fits great and is the perfect length to wear with tights or skinny jeans.  The fabric is so soft and comfortable. I just purchased this shirt last week and my daughter talked me out of it, so I'll be purchasing another one or two of these for myself!" 
---
"I purchased this dress on a whim after seeing it on Instagram paired nicely with a plaid shirt and I'm so happy I did. I don't wear dresses that often but decided what the heck and wore it for the first time today. I got so many compliments that I lost count including a complete stranger driving down the street. She hung her head out of the window and yelled "I love your dress"! Haha, so I highly recommend it, it's comfy and the stripes are nice (I purchased the navy blue) and yay pockets! I'm going to buy another one! Thanks Toad!"
---
I ordered Singlejack shirt in "Jeep" and I couldn't be happier with it. It immediately became one of my favorites. The Singlejack fits perfectly and it's a great, high-quality material…soft on the outside, but super soft on the inside too. The fact that it's made responsibly from recycled materials is just the cherry on top. – Jason
---
I purchased my first pair of Toad pants a month or two ago – Mission Ridge pants to be more specific. I'd gotten to the place where I needed something different to wear than jeans, and mission ridge pants seemed like a great fit at the time. After a month of wearing them, I've become incredibly annoyed. I just can't take them off. These pants are the best pants I've ever purchased. They fit me great, they are comfortable, they can be casual or a bit more business-ish and can be worn with almost anything else I have in my closet. The problem is that I've only got one pair and I can't wear them if they are in the laundry. Clearly, I need to get another pair of pants. Bottom line – you've annoyed me. Your pants are so great, I never want to wear anything else again. Congrats on such an accomplishment. – No Name
---
Interested? Check out our full Toad&Co selection online or in-store for trail-to-tavern styles that help you live well & feel good.
All reviews gathered by Toad&Co on toadandco.com from real users.