The Rock/Creek Hare Raiser 5K trail race is coming up on April 20th, and we are so excited to see what this race will bring! The Hare Raiser is unique among R/C races, offering our most beginner-friendly course ever as part of the 2nd Annual Chattanooga Earth Day Festival. We're partnering up with Reflection Riding Arboretum and Nature Center to make this an amazing Earth Day that will offer something for everyone. Read on for the top three reasons to sign up for the Hare Raiser.
The Hare Raiser 5K & 1 Mile is an update to last year's Brow Beater 3 & 7 Mile. We're excited to bring you this new and improved race!
Reason #1: It's a great intro to trail racing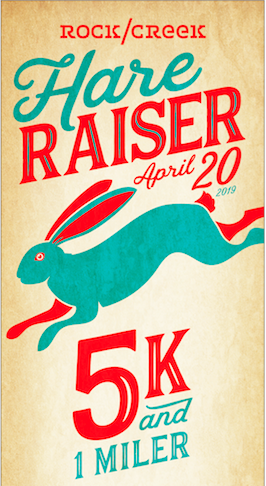 With two distance options, 5 kilometers or 1 mile, this race is designed to offer something for runners of all skill levels. If you're new to trail running or just prefer a more laid-back course, the 5K race is Rock/Creek's most beginner-friendly and family-oriented race ever. With only a couple hundred feet of elevation gain on a mix of trails and gravel roads, this route is perfect for running or hiking at any speed.
The 1 Mile race is the perfect way for kids to get in on the action! They'll get to experience all the joy of a trail race in a fast, easy package.
Reason #2: Because it's the best way to celebrate Earth Day
Since its start in 1970, Earth Day has been about people coming together from all walks of life to clean up and protect the planet we live on. At Rock/Creek, we try to embody that mission daily through our stewardship efforts, and to pass it on to everyone we meet.
Over the years, we've found that people who get out and appreciate the outdoors recreationally are more likely to take action to protect the environment. That's why we think the best way to celebrate Earth Day is to spend a morning with your feet on the dirt exploring the beautiful forests of Lookout Valley. Plus, proceeds from the race will benefit Reflection Riding Arboretum and Nature Center, which provides outdoor conservation, recreation and education for the Chattanooga community.
Reason #3: To help build this unique Chattanooga tradition!
Both the trail race and the festival were brand new events for 2018– and we're so psyched to keep it going for the 2nd year! The whole day will be jam-packed with fun for all ages: The Hare Raiser race will take place in the morning, to be followed immediately by Reflection Riding's annual Native Plant Sale. Afterward, stick around for food trucks, live music, gear demos, educational programs, guided hikes and an evening film screening. Plus, enjoy pints from Chattanooga Brewing Company and samples from our pals at Chattanooga Whiskey.
Whether you come for the Hare Raiser race or for the Earth Day festivities (and we fully recommend both), we're certain that you and your family will find something to love at Reflection Riding on April 20th. We hope you'll join us in making this Rock/Creek's best Earth Day yet.
For information on becoming a member of Reflection Riding Arboretum and Nature Center, visit their website.
Ready to run? Sign up today.