Lots of folks shy away from winter hiking, preferring to stay far from the cold, wind and sometimes even snow, and save the outings for warmer times.
We'll be the first to admit that winter hikes require more preparation, planning and gear than summer adventures; but we also know that you can often find solitude and scenery that just isn't there in warm months. When done right, winter hiking is extremely rewarding.
Rock/Creek Co-Founder Dawson Wheeler is a seasoned pro at getting out when conditions are less than ideal. Here, he talks about a recent trip to Mt. Leconte and the safety measures he took for his hike.
The Route
This is an 11-mile trip, plus I added another mile or so out to Myrtle Point. So my day was 12 to 13 miles total. This is a "straight-up-the-mountain" hike with steep sections. It's an out and back, but you can make a loop with other trail systems if you want.
The total trip from Signal Mountain and back can be done easily in a day. I left at 7:30 a.m. and was home before 7 p.m. I was hiking and not rushing, and completed the round trip in about 4.5 hours. On a warmer day you would want to stay on top much longer, but Alum Cave Trail is very popular so the best times to hike are in the middle of the week and winter.
There are many routes up Mt. LeConte and you should pick your trail based on distance and conditions. Alum Cave has many exposed, wet and rocky areas that freeze and form ice, so plan to carry Yaktrax and hiking poles for safety if you go in cold months.
The weather on top of LeConte, or frankly any high peak in the Smokies, will usually be a minimum of 10 degrees colder and could be as much as 15 degrees colder (plus wind chill) than temperatures in Chattanooga, so dress accordingly.
Gear List:
Boots: I always hike in a water proof boot, either a Salewa Mountain Trainer or a Kayland boot.
Pants: Out of the car I wore soft-shell Arc'teryx Gamma LT pants with a light weight wool baselayer on the bottom,
Shirt: A wool tank top, and light weight long sleeve wool top with a Patagonia wind shell and hat.
In my pack:

Gore-Tex rain shell
wind stopper gloves
Map
Toilet paper and zip lock to carry used paper out
Food and 2 water bottles
I carry my phone for pictures and keep it on airplane mode. (Very little cell coverage in the park so it's just for photos.)
I watched the weather very closely and made the decision at the trail head to not carry my rain pants.
Small first aid kit for blisters, and athletic tape in case I need to tape a knee or ankle.
I carried an Osprey Talon 33L pack, my weekend to day hike pack. While it's way too big for most day hikes, I can collapse it and also stuff the head of the pack into the body to make it great for day hikes.
The core of my day hiking food is meat, cheese and dark chocolate. I alway have a Hammer gel and a Clif Bar in my pack as well.
Safety: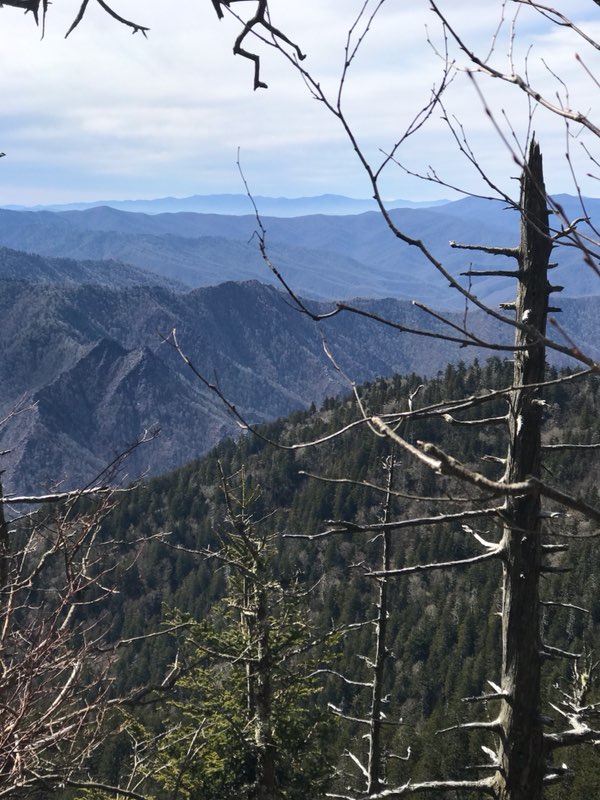 I always tell someone where I am going and my planned return, ie, what trailhead I'm starting from and when I expect to be back. Set your own safety rules for whoever you are making aware. As an example, I tell my wife to not worry about me for 24 hours because I've been known to stay overnight in the park in my van with no cell coverage.
Also, I like hiking in the park when the weather is bad, and sometimes the Park Service will close the roads and potentially leave you stuck inside the park for the night. (If you have a van, you live for these days.) But you don't want your "safety person" worried. Be honest and also smart about this because you don't want the Park Rangers looking for you simply because you did not call your safety person and they in turn called the Park to report you missing!!!!!
I'm a map person and always carry a map. I am untrusting and have experienced less than perfect outcomes using my phone or other devices for way finding.
Staying Warm:
Winter hiking is about managing moisture so go slow and steady uphill. Zipping, unzipping and removing layers is important to staying dry, and being dry means staying warm. A steady intake of water and food keeps energy up. Make sure to manage your time and the day light; have a turn around time that allows you safely to get out of the woods before dark unless you are comfortable with night hiking and way finding on the trail system.