Press Release for Rock/Creek Atlanta
ROCK/CREEK OPENS NEW STORE IN ATLANTA
Customers are invited to join the Opening Day Celebration on Dec. 22nd.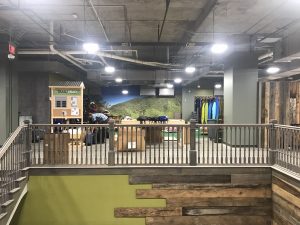 ATLANTA, GA – DEC. 17, 2018– Rock/Creek, a leading Southeastern specialty outdoor retailer, is excited to announce the opening of its newest store at The Battery Atlanta. Located near SunTrust Park, this new store will specialize in outdoor equipment and apparel, and will also offer outdoor gear rentals and repair.
As the retailer's eighth location in the Southeast, Rock/Creek Atlanta will offer an expertly chosen selection from trusted brands like The North Face, Patagonia, Chaco, Yeti and more. The store's upper floor will be dedicated to an experiential area for handling, testing and learning about outdoor equipment. Customers will be able to set up tents, practice using stoves and water filters, learn map and compass skills, and even test out sleeping equipment on uneven surfaces.
"We're certainly excited about this storefront and we're looking forward to sharing this new experiential component with the outdoor community," said Rock/Creek President Chad Wykle. "We want to make sure that our customers feel knowledgeable and safe using the gear that we carry. This hands-on component of our store is the ideal platform to teach our customers about technical products and help them make the best decisions about their outdoor gear."
The store will also offer a full range of rentable camping gear such as tents, sleeping bags, sleeping pads, trekking poles and more. Additionally, customers can take advantage of equipment repair services, bike assembly and various bike repairs.
Rock/Creek was founded in Chattanooga in 1987 by outdoor instructors with two simple goals: get more people outside and promote the health of the environment. For 32 years, Rock/Creek has worked closely with nonprofits to support trail building, land and waterway conservation and the outdoor community as a whole.
Each year, Rock/Creek hosts a series of trail races to benefit local lands. Since the inaugural race in 2001, Rock/Creek has given hundreds of thousands of dollars to organizations like the Tennessee River Gorge Trust, SORBA, the Southern Appalachian Wilderness Stewards, Cumberland Trail Conference and more. Additionally, it has played a pivotal role in gaining and maintaining access to some of the region's best rock climbing areas like Stone Fort, Denny Cove, Deep Creek and Horse Pens 40.
Camping World Holdings, Inc. (NYSE: CWH), the nation's largest network of RV-centric and outdoor retail locations, acquired Rock/Creek in April of 2018.
Customers are invited to an Opening Day celebration on Dec. 22nd from 10 a.m. to 8 p.m. for refreshments, games, raffles and giveaways.
To learn more about Rock/Creek Atlanta, follow us on Facebook at facebook.com/rockcreekoutfitters and on Instagram at @rockcreekgear.