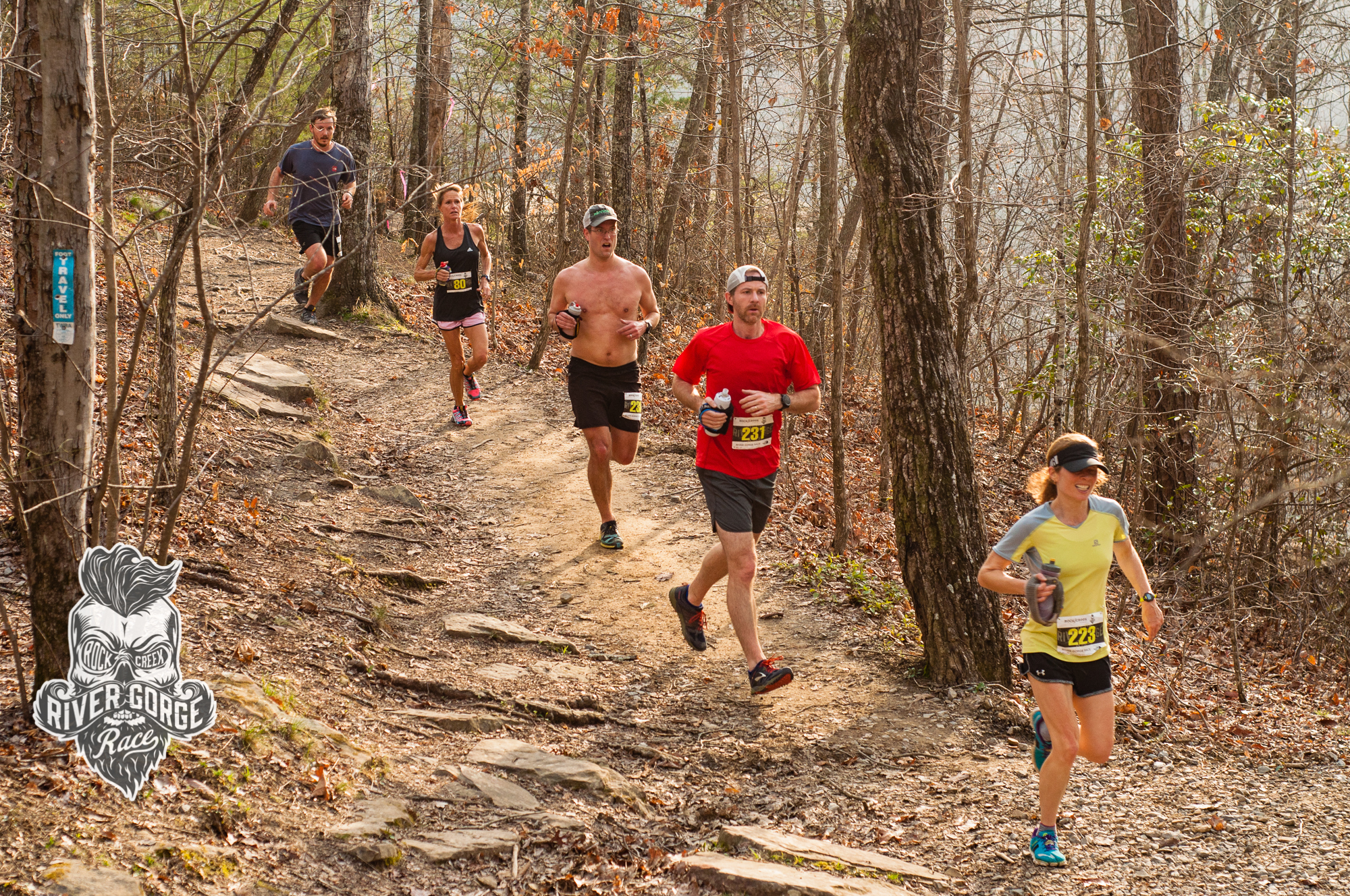 As Spring approaches, so does one of Chattanooga's most beloved mid-distance trail races, the Rock/Creek River Gorge Race. This 10.2-mile tour of Prentice Cooper State Forest is the perfect way to kick off your trail running season, and the race draws new and veteran runners year after year.
While anyone who's participated could list dozens of reasons to run the River Gorge Race, here are the top three reasons to get yourself to the start line on March 24th.
Reason #1: To say you've run Rock/Creek's oldest trail race
That's right, the River Gorge Race premiered back in 2000, becoming Rock/Creek's first ever trail race. With so many trailheads just a stone's throw from downtown, Chattanooga now boasts almost too many trail races to count, from 5Ks to fearsome hundred milers. And while there were some local races going on before the River Gorge Race, there weren't nearly as many trail events as there are today. This year, Rock/Creek is proud to have been hosting the River Gorge Race for 18 years and counting. 
Reason #2: Because it's exceptionally  beautiful
Prentice Cooper State Forest is tucked against the Cumberland Plateau along the Tennessee River Gorge, and the views of the surrounding ridgelines and valleys are pretty unreal. The race follows Mullen's Cove Loop, a trail that hugs first one side of the ridge and then the other. Along the way it offers bluffside single track, quintessentially southeastern panoramas and ever-changing scenery.
The race also features Indian Rock House and the infamous Rock Garden, two impressive but challenging elements of the course. You'll have to turn your eyes away from the beautiful surroundings for a few minutes to navigate these often-slippery sections.
Reason #3: It's the perfect race to kick off your running season 
This race follows all the rules of moderation: it's not too long or too short; it's hilly but not grueling; it's (usually) not too hot or too cold. If you're a beginner, the River Gorge Race makes for a challenging but very attainable course. Its moderate distance and generous cutoff times mean you can afford to putter a little bit. For veteran runners, the course is rugged enough that achieving a competitive time means putting in some serious leg work.
And as if all that weren't enough, each Rock/Creek race benefits our local wild spaces and encourages people to go out and enjoy them. The River Gorge Race supports the Tennessee River Gorge Trust in conjunction with the Southeastern Youth Corps, organizations that work to build new trails and maintain existing ones. Long story short, running the River Gorge Race ultimately improves access to our region's great outdoors for everyone.
Bonus Reason: Because running legend Rob Krar is going to be there! 
North Face endurance athlete and decorated ultra-runner Rob Krar will be joining us for the River Gorge Race this year, and we could not be more psyched! Rob will hold a meet-and-greet and sign posters at the packet pick-up on Friday, March 23rd, and then stick around to run the race on Saturday! Just some of Rob's amazing feats include winning the Western States 100, the Leadville 100 and the Run Rabbit Run 100, in addition to holding the Fastest Known Time for single and double crossings of the Grand Canyon from 2012 to 2016. This guy is a rockstar! If you've ever wanted to meet and run with one of the world's best ultra runners, this is your chance. 
Ready to run? Sign up today.