Dave Everson / Tomek Cyrus / Mariusz Fus
Travel Issues
Boeing jets were grounded after the Egypt crash, and major snowstorms from North Dakota down through Colorado caused 600 Denver flights to be cancelled. That meant we drive.
After the first 12 hours, we hit a wall. Google Maps took us north, a bit out of the way on I-94. We thought the northern route perhaps was the way around the closed highways; I-70, I-80, I-90 and I-94 were all closed and buried in snow. After seeing another SUV stuck in a 3ft drift on a back road west of Fargo, we turned around and slept in Fargo, ND.
The following morning, an even more northern route was the first to open, Hwy 2 up in North Platte. After two very long driving days, we arrived on a Friday night in Red Lodge, Montana.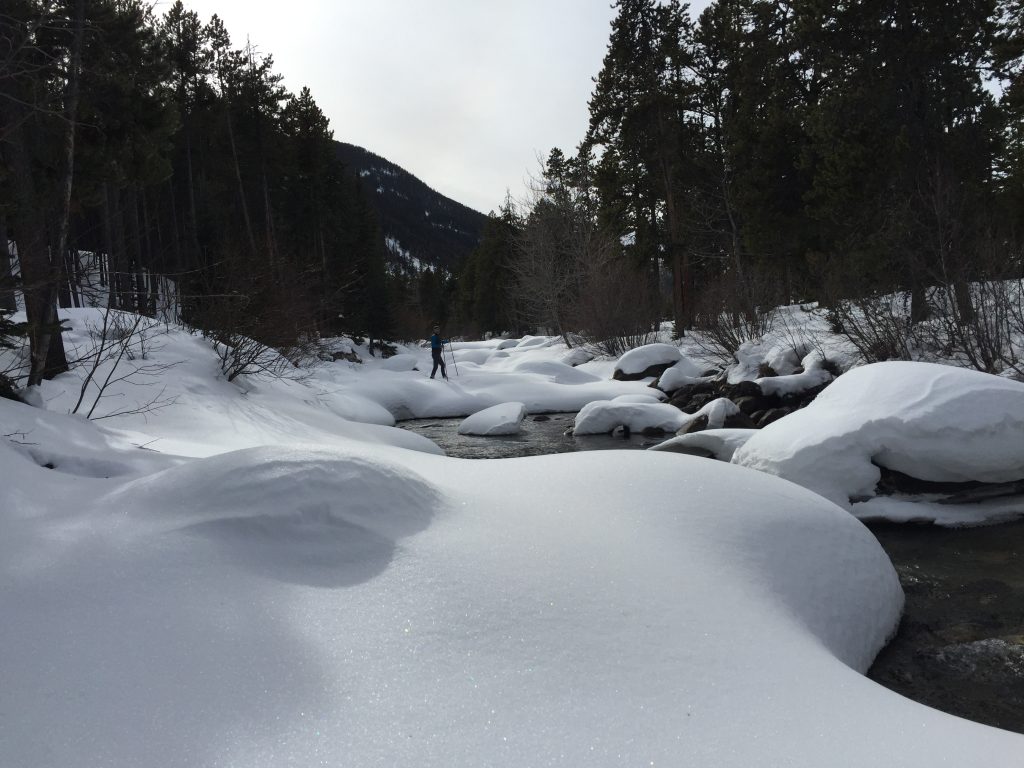 California Falls, Red Lodge, MT
California Falls is one of the great classic ice climbs of Montana, and we quickly realized that approaches to the routes here are very different than in the Midwest. The approach to California Falls was a 4 hour hike up steep and deep snow slopes. I quickly learned the benefit of acclimating to altitude, as both Tomek and Mariusz had individually done climbing trips just two weeks prior. Their red blood cell count was all set for climbing. My lungs were still used to the thick Chicago air. After the hike up, I just wasn't moving at the same pace and I didn't want to chance them not getting to the top. I went down, electing not to cover the descent down with headlamps as they would have to do. They both succeeded after about 12 hours on the go. I did not get the car keys and ended up pacing the road for four hours, even snowshoeing again though I was exhausted – I needed to stay warm as the temp was dropping below freezing.
Silver Run Cross Country Skiing
We decided on a recovery day, but Tomek and I thought we'd have active recovery and went classic/Nordic style skiing. Trails were beautiful and we enjoyed a few hours of casual paced skiing. We hit town for dinner and feasted with caloric intake knowing we're heading into the mountains for the next few days.
Granite Peak
Rarely ever climbed in winter, our goal was to pull it off Wyoming's highest peak the last days of the season and get a winter ascent of what is known as one of the most difficult in the lower 48. Again, the fact that Tomek and Mariusz were already good with altitude played out once again. This first approach day was 9 miles, due to a spring breaking loose and icing the road. It was closed a mile earlier than the trail head. And that added some elevation, of course. With a ballpark 4,000 ft. elevation gain and some steep grades, this was slow going. The lakes we crossed were sun baked, making the wet snow cling to our snowshoes and poles. It was heavy, in addition to our full backpacks and my feet on the lakes felt like I was dragging concrete.
The climbs between lakes were steep, and with the trails buried in snow, we had our own route-finding challenges. In one place we hit a dead end, too steep for snowshoes, so we managed to use a pine tree for aide, gripping branches with our right hand, smearing snow shoes on dry snow and rock hoping we'd have just enough traction to stick. And it worked. Had we slipped or lost grip, we'd slide down a 70-degree slope into a creek. That would have been a bad situation as temps were dropping below freezing.
We pushed through to Cold Lake, about 9,000 ft elevation. Ideally, we should have stopped higher at Avalanche Lake, but the sun was setting quickly and we were all exhausted. And I think I bonked about an hour or two back, but had no choice but to push through it. I paid for that. I didn't sleep well that night, tossed and turned, and was cold as temps dropped below zero. Mariusz, next to me in his 1,000-fill sleeping bag, also took sleeping pills to knock himself out. I was jealous as I was shivering uncomfortably. When the alarm went off and I hadn't really slept, I knew I would not jeopardize their summit attempt. I knew that in my condition, climbing while I really needed recovery, would be dangerous to the team. While I rested, they pushed on for a solid effort, again up steep exposed slopes, and at 5:30PM with the entire summit pyramid to go, they decided the safest thing to do was to turn back. The top is iced-over and snow covered exposed 4th class rock climbing, but with ice and snow, it may have been really dicey. While I wished for their success, they too agree with that the summit is optional, coming home isn't.
The next day we had a big breakfast, again with temps around zero, and we moved slowly in the morning, anxiously waiting for the sun to come over the peak to our east. This Cold Lake was named appropriately, as well as Freeze to Death Plateau above us. It was another long day, but at least it was mostly downhill. Plunging down in deep snow in snowshoes is fun indeed, but eventually burns your muscles too. It felt great to be back at the car and off to a hot shower and warm bed in a hotel, back in town.
Bozo's Revenge, Cody, WY
Thursday morning, after an amazing sleep, we had breakfast, repacked for a day of ice climbing, and drove to Cody Wyoming. We headed right for one of the Cody classics, Bozo's Revenge. Big fat beautiful plastic-like ice, this has a 35-foot pitch of easy grade, then a solid 195 feet of WI3+ ice, then another 35-foot easy sloping pits above that. The hike up was only an hour, and this was just pure joy.
We knocked this climb off comfortably and all moved efficiently. It felt good to stand on top and perhaps for the first time on the trip, I was starting to adjust to the altitude and steep grades on the approach. This success would no doubt leave a smile on my face for days, even after I was back home later.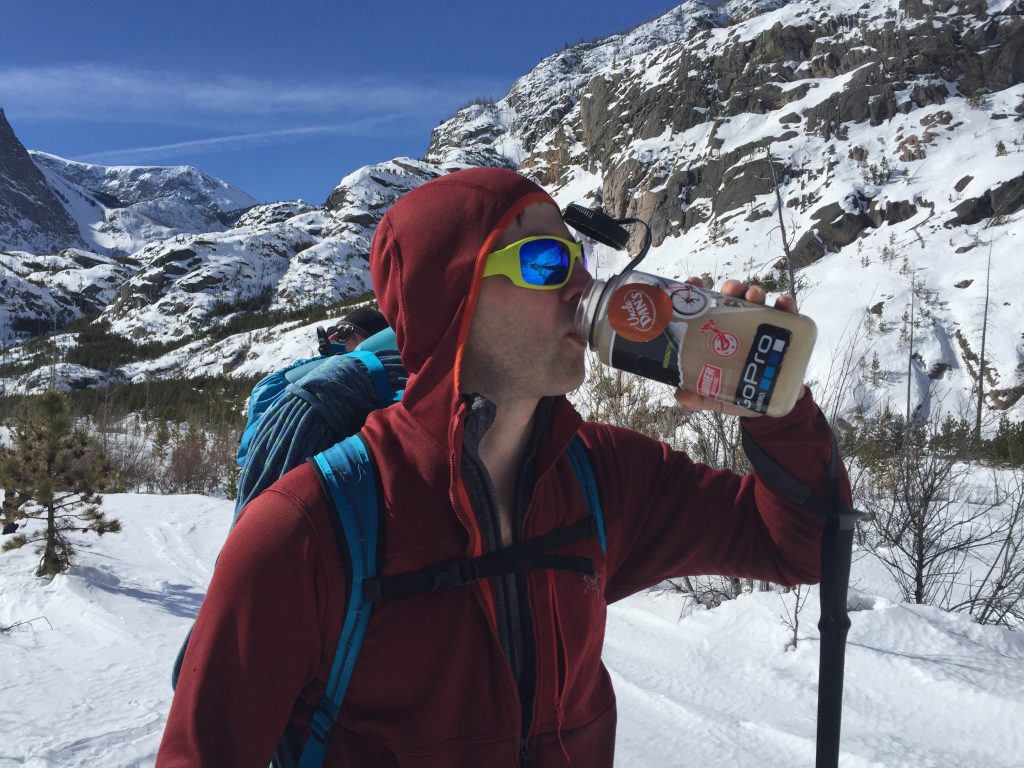 Evaluation
Like the other two, having had a previous trip to climb at altitude, sleep high, then come back home to sleep low for a week, would have had great benefits. But not everyone can take a vacation to prepare for a vacation, so that's a bit complicated. But it no doubt made a big difference and made my two partners more prepared than I was. Also, after talking to other climbers, with such deep snow conditions, they suggested that learning the art of back country skiing, using skins and learning to carve turns with a full pack on would be the more efficient way to go next time.
For me, I much prefer the hard-packed glacier ice of the peaks in the Cascades in late summer. I'm not sold on going back into the deep snow in winter. That's To Be Determined, I guess, but being exposed in snowshoes with no way to self-arrest wasn't a thrill I cared for. This trip kicked my butt and I accept that. I was praying to simply have the energy to put one foot in front of the other, safely. Prayers answered.